Working or playing games for a longer duration by just sitting in one place can be hectic and very tiring for a moment, provided you didn't get the best gears. The option here is not to quit but how to solve this problem. Don't worry Adcom has solved this for you. Just the way you wanted it to be. Solving problems for our customers and enhancing the user experience of all the products manufactured here is our topmost priority. Whether you are an office employee or a gaming enthusiast, a good chair can take your working or gaming experience to a whole new level. An ordinary chair not only reduces the working efficiency of an individual but also puts them in a bad body posture resulting in health ramifications. We all know that mutants are there to disrupt our life, as the beloved coronavirus did. But here is a mutant that will contradict your thought.
Adcom Mutant; a super gaming office chair.
A Right choice for the gamers whose gaming is no less than work for them. When you love something, it is in your veins, it is in your mind, and everywhere around you. Love is just an experience. So Better the experience better you are getting into it. And we pledged to enhance this submerging experience of our customers.
Why Adcom Mutant is the right choice for you?


Customize according to your comfort
Different people have different requirements, and one fixed structure cannot represent everyone. Keeping this in mind our Adcom mutant is designed to be customized for different setups. We know you get sleepy and change your sitting posture as time drifts. Use our recliner feature and get rid of that, Without the comfort being compromised. Controlling the size of the Mutant are also in your hands.
Just a few clicks on the adjustment gears, and that's it; It's with you now. In addition to this, the 2D padded armrest is also adjustable and specially designed to prevent sweating and enable an elegant airflow. The 360° rolling caster wheels outrage the stagnancy and enables better mobility.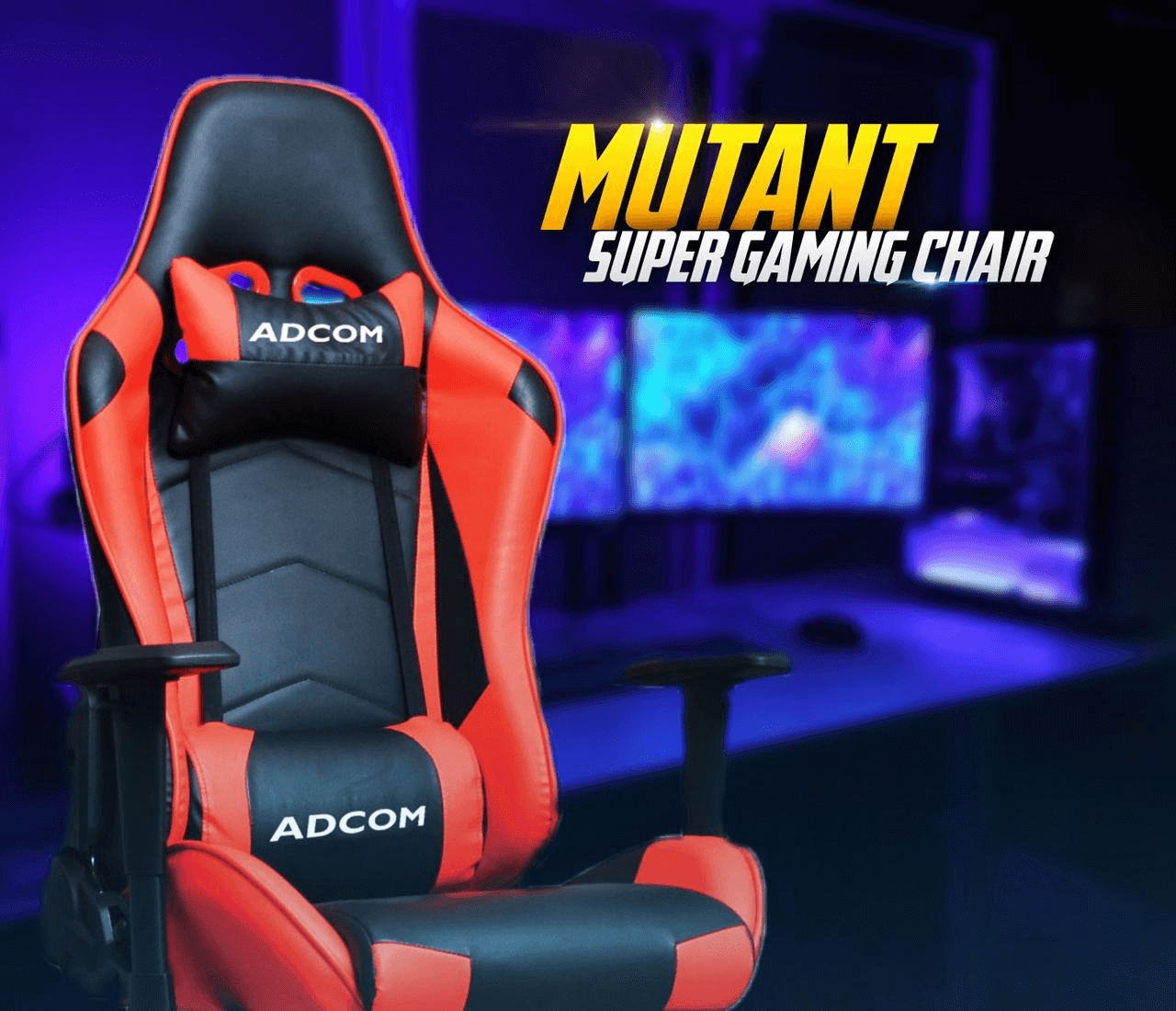 Sustainability
The chair has a supreme unique design that adapts and changes according to the body shape, raising the comfort of the user. With its scratch-proof material cover and soft, comfy foam, your proper seating, and build quality are not compromised at any stage. It is scaled with a heavy-duty internal metal frame with nylon base material to provide maximum durability. Attached to it is the highest backrest in class with a threshold of up to 180 kgs, making it an all-pervasive and relaxing experience.
The 3 years of hassle-free warranty makes it future-proof. And any defect in the product will be taken care of by our shoulders.
All the features and thresholds are added after a thorough trial and testing. Something you can completely rely upon.
The elegant red and black colour combination gives it an extreme killer look.A good choice for the professionals who are looking for a premium quality durable product. Probably the best in this price range. Consider This Gaming chair as the vaccine for laziness. And get your vaccination soon.😜
Get to know more about Adcom on www.adcomhitech.com
Also, follow us on Instagram, Twitter, Facebook, Pinterest, LinkedIn


Coherent padded headrest
The chair comes with an integrated removable padded headrest to increase the edge of good posture and as a pain relief mechanism after excessive drill, Overall contributing to the air design.
Versatile design and Colour
Gaming always entails emotions; expressed in hitting the victory, knocking the defeat, jumping, and whatnot.
So can this Mutant handle all this?
Well, you are missing one thing that mutants are always strong, no matter it is Good or Bad, and this will answer your question remarkably. Easy to assemble in any environment for better mobilization.
Connect with the Author on www.instagram.com/maheshmanmad/